May is Mental Health Awareness Month. Lockdowns, stay-at-home orders and social distancing make this a challenging time for all. For those with untreated hearing loss, who are at an even greater risk of developing mental health issues, raising awareness and developing a coping strategy is key.
Social Isolation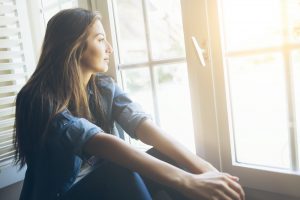 A report from the National Academies of Sciences, Engineering, and Medicine and sponsored by AARP Foundation found that about 25 percent of those over the age of 65 lack social contact with others. This number is exacerbated by hearing loss.
Seniors with untreated hearing loss can become frustrated when trying to hear and understand in noisy situations. As a result, they begin avoiding activities, people and places they once enjoyed. One study found that people with untreated hearing loss are significantly less likely to participate in social activities than those who use hearing aids.
Loneliness and social isolation can lead to serious health problems, including:
Heart disease
Dementia
Stroke
Depression
Stress
Early death
Hospitalizations
Depression
Untreated hearing loss has been linked with an increased risk of depression. This connection makes sense as hearing loss can make communicating difficult, which in turn can lead to social isolation, stress and fatigue.
One study by the National Council on Aging looked at more than 2,300 people and found that those with hearing loss were 50 percent more likely to experience feelings of sadness and depression. A 2014 study conducted by the National Institute on Deafness and Other Communication Disorders determined that more than 11 percent of those with hearing loss also had depression as compared to only five percent in the general population.
Cognitive Decline
Untreated hearing loss has long been linked to an increased risk of cognitive decline. Some suspect that untreated hearing loss can reorganize the brain, shrinking the underused areas to devote them to other tasks. This results in a reduction in brain functions such as short-term memory problems or issues with problem-solving skills.
Dr. Frank Lin, at Johns Hopkins University, has conducted a number of studies looking at the connection between untreated hearing loss and cognitive decline. His 2011 study monitored the cognitive abilities of participants for more than 12 years. They found that the worse participants' hearing loss was at the start of the study, the more likely they were to develop dementia.
In 2013, Lin published a study called Hearing Loss and Cognitive Decline Among Older Adults. He and his team tracked the cognitive abilities of nearly 2,000 adults with an average age of 77. After six years, those who began the study with hearing loss were 24 percent more likely than those with normal hearing to see a decrease in their cognitive abilities.
Treating Hearing Loss
One of the best ways to protect your mental health is to treat your hearing loss. And for most of the 48 million Americans with hearing loss, the best treatment is the use of hearing aids.
Tips for Coping with Hearing Loss During COVID-19
Staying connected and engaged during these difficult times is crucial to your mental health. Below are 10 tips to help keep your spirits up and feel connected.
Video Calls
Staying connected with the ones you love is more important than ever before. There are a number of video calling platforms you can use that make you feel closer than a traditional phone call.
Meditation and Yoga
Meditation and yoga can help reduce stress levels and control anxiety. There are free videos on YouTube for every experience level to fit your needs.
Exercise
While we may not be able to go to the gym, nothing is stopping you from doing a home workout using just your body weight. Exercise releases endorphins, which can make you feel happier.
There are thousands of free workout videos online to fit your mood.
Dance
Dance is an excellent form of exercise and can help reduce stress and improve your mood. Put on your favorite song and dance around your living room.
Go Outside
While many parks are closed, as long as you wear and mask and practice social distancing, it is safe to go out for a walk around your neighborhood. Getting fresh air can help boost your mood.
Clean Your House
There is always housework and chores to be done. Now is the perfect time to go through that junk drawer or dust those high shelves.
Practice Your Cooking Skills
Why not try that complicated recipe you've always talked about cooking? If you can get some flour, you can even try your hand at bread making.
Watch a Movie
There are many online streaming platforms that bring the movie theater experience right to your living room. Whether it is a classic that you never got around to seeing or a movie that's so bad it's good, watching a movie can take your mind off your troubles, even for just a few hours.
Pamper Yourself
Bring the spa to you. Try your hand at nail art, put on a face mask and light some candles. Now is the time to practice self-care by taking some time just for you.
Join a Virtual Social Group
There are social groups devoted to every topic under the sun. You can connect with people from around the world who share your hobbies and interests right from the comfort of home.
Mental Health Awareness Month is the perfect time to look inward at your own health and reach out to those who may be struggling. Contact San Diego Hearing Center to learn more about the connection between untreated hearing and mental health or to schedule an appointment today.