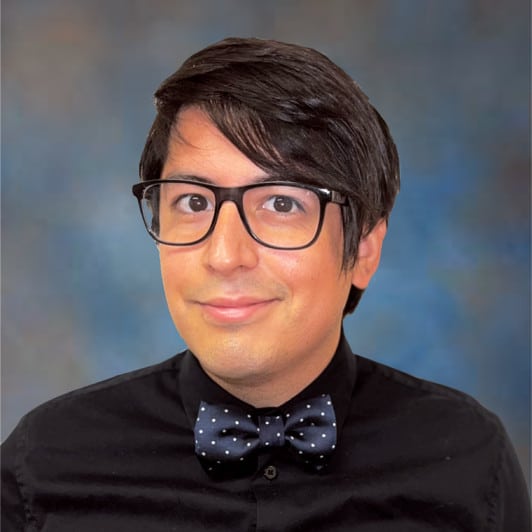 Kalvin Perez
Hearing Aid Dispenser & Audiology Technician
Kalvin Perez is a hearing aid dispenser and audiology technician who enjoys taking a patient-oriented approach to hearing health care. He performs a wide range of duties including assisting with testing, dispensing and repairing hearing devices. He strives to do his best and provide exceptional, compassionate care for every patient he helps, in addition to learning and applying new skills to his treatment methodology. As a musician outside of work, Perez likes to place emphasis on the importance of healthy hearing in day-to-day life as he helps patients reconnect with their own loved ones.
Perez joined San Diego Hearing Center in 2015 and is a graduate from Antelope Valley College. His interest in music, computers and sound made audiology the perfect career choice to embark on. He knew that he also wanted to work in a field that helped him make a difference in the lives of those who experience hearing loss. He understands the importance of individualized care and is always happy to help patients solve new challenges.
Perez's training as an audiologist assistant began under Dr. Blanche Blackington and through NOVA Southeastern University from 2015 to 2016. He was accredited as an audiology assistant in 2016 and continued training through the Speech-Language Pathology and Audiology and Hearing Aid Dispensers Board of California. He then became certified to work professionally as a hearing aid dispenser in 2020. He was very thankful for his time working and learning under Dr. Blackington and misses her dearly.
When not in the office, Kalvin can be found hiking, running, longboarding, playing his music or traveling. His passion for music goes as far back as middle school when he began to play guitar and the ukulele. Kalvin's cat, KitKat, also joins him on some of his hiking adventures.